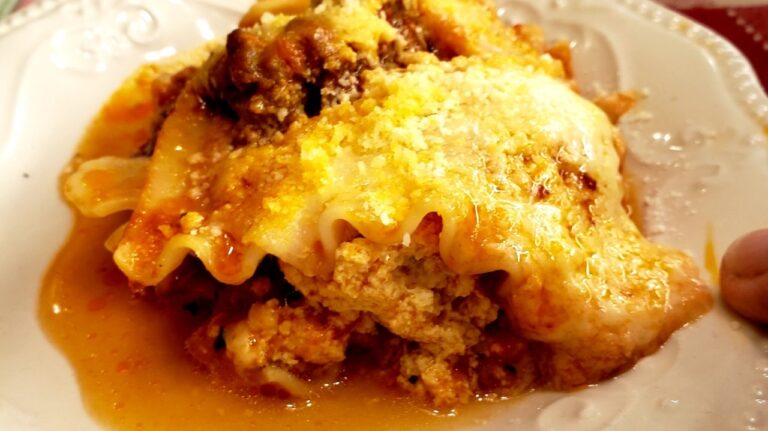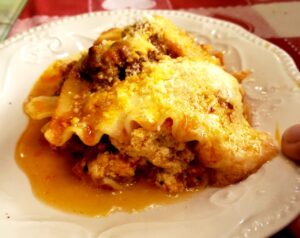 NOTE:  Baked Lasagna is still one of the most popular dishes of the Italian cuisine.  Layered noodles packed with ricota cheese, Italian cheeses, and meat sauce, this recipe explodes with Italian flavor.   
Ingredients:
1 recipe Rosalie's Meat Sauce found on page 130 of the Rosalie Serving Best Loved Italian Cookbook.
9 Barilla Lasagna sheets
1 tablespoon salt
1(15-ounce) container ricotta cheese
2 tablespoon fresh curly parsley, chopped fine
1/2 cup grated Parmesan cheese
1 egg
Salt and pepper
1 (16-ounce) bag shredded mozzarella, divided
 Or Italian cheese blend, 4 cups
½ cup grated Parmesan
Instructions:
Preheat oven to 350-degrees.  Prepare meat sauce as directed; set aside.  Boil lasagna in an 8-quart pot boiling water with salt added, about 10 to 12 minutes.

While lasagna is cooking, make the ricotta filling by placing ricotta in a medium bowl. Add the parsley, Parmesan cheese, egg, and, salt and pepper to taste.  Using a whisk, mix the ricotta with seasonings until fully combined.  When the lasagna is cooked al dente, remove pot and drain all but about 2 cups water.  Add 4 cups cool water in order to handle the noodles.

Using a 9 by 13-inch pan, pour 1 cup sauce on bottom of pan without meat. Layer 3 lasagna sheets over the sauce.  Dollop 1/2 of the ricotta over the sheets and 1 cup shredded mozzarella over the ricotta.  Next add 1 ½ cups sauce.   Repeat the layer again using ricotta, cheese and sauce.  Top the third layer with 3 more lasagna sheets, and add about 2 cups sauce.    Top with grated Parmesan and more of the shredded mozzarella.   Cover with foil and bake for 35 to 40 minutes, or until bubbly and cheese is melted on top.  Remove from oven and let sit for at least 15 minutes.  Makes 12 servings.