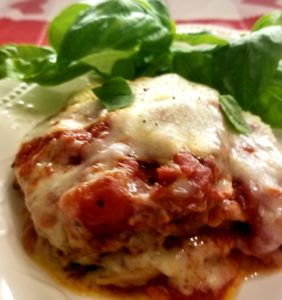 Hungry for a savory eggplant dist?  Then Rosalie's Eggplant Parmigiana will more than satisfy.  Layered with a delicious marinara sauce and shredded mozzerella, rope provel cheese and plenty of grated Parmesan, this dish is bubbling over with goodness.
Ingredients:
1 recipe, Rosalie's Marinara Sauce, page 160, in Rosalie Serving Best Loved Italian cookbook
 
2 medium eggplants (about 12 to 14 slices each)
Salt
1 1/2 cups all-purpose flour
1 teaspoon salt
1 tablespoon grated Parmesan cheese
3 eggs, beaten
1 cup plain breadcrumbs
1 cup grated Parmesan cheese
1 teaspoon salt
½ teaspoon coarse black pepper
1 tablespoon fresh curly parsley, chopped
1 large clove garlic, chopped fine
Olive oil for frying
3 to 4 cups Marinara Sauce
2 cups shredded Mozzarella cheese, divided
1 1/2 cups Parmesan cheese, divided
2 cups rope-Provel cheese, if available
  Or shredded Mozzarella cheese
1 tablespoon fresh basil, chopped
Instructions:
Preheat oven to 350-degrees.  Prepare marinara sauce and set aside.  Cut ends off eggplants.  Stripe the eggplants by cutting skin off in an every-other stripe sequence.   Cut the eggplants into ¼-inch slices.  Place the slices in a large bowl and sprinkle liberally with salt on both sides.  Let the eggplant set for about 30 minutes.  Rinse the slices well, and place into a colander.  Set aside.
Set out 3 glass pie plates or any shallow bowls. Place the flour mixture in one bowl; flour, salt and grated Parmesan cheese.  Place the beaten eggs in a second bowl, and the breadcrumb mixture in a third bowl; breadcrumbs, cheese, salt, coarse lack pepper, curly parsley, and chopped garlic.
Pierce each eggplant with a few fork marks. Place each eggplant slice into the first bowl with the flour mixture and coat the slice well with flour.  Next, place the floured slice into the egg mixture, and coat on both sides, letting the extra egg drip off.  Now, place the egg-coated eggplant into the Italian breading, coating well on both sides, pressing the breading into the slice.  Bread all the eggplant slices and place onto cookie sheet.
Using two fry pans, place about ½ cup olive oil in each pan. Fry the eggplant slices in olive oil for only about 2-3 minutes on each side, adding a little more oil if needed.  Place the slices back onto the cookie sheet and set aside.
Using a 14-inch by 10-inch baking pan, begin to layer the eggplant. Using the marinara sauce, place 1 cup sauce on the bottom of the pan.  Place 12 slices of the fried eggplant slices over the sauce.  Next, scatter 1 cup shredded mozzarella cheese over the sauce followed by ½ to 1 cup grated Parmesan cheese.  Repeat the layers with the remaining eggplant. Start with another cup of sauce, then the eggplant slices, mozzarella and Parmesan.  Top with Provel rope cheese, about 1 cup, or 1 small package.  Add a little more of the shredded Mozzarella and the grated Parmesan cheese.  Bake uncovered for 25 to 30 minutes.  Remove from oven when done and let the eggplant sit about 15 minutes before slicing.  Garnish the top with fresh cut basil.  Serves 12.