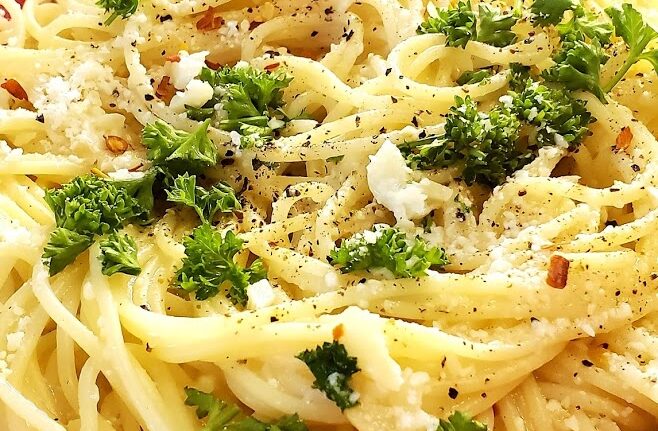 NOTE:  This dish will bring found memories to the many Italian kids who begged their moms for this pasta.  So easy, yet so delicious in its simplicity.
Ingredients:
1 cup unsalted butter
3 to 4 cloves garlic chopped fine.
8 ounces angel hair pasta
1 tablespoon salt
2 to 3 tablespoons olive oil
1 cup pasta water
3 tablespoons fresh curly parsley, chopped.
½ teaspoon crushed red pepper flakes.
1 teaspoon coarse sea salt
½ teaspoon coarse ground pepper
½ cup Parmesan cheese
Instructions:
In medium saucepan, combine butter and garlic.  Bring the heat to medium and melt the butter with the garlic.  Sauté the garlic and butter for about 1 minute, or until the garlic becomes tender, and butter is golden in color.  Do not burn butter or garlic.  Transfer the butter sauce to a large pasta bowl.
Boil the pasta in a large pot of salted boiling water for about 3 to 4 minutes, or al dente. Be careful to not overcook the pasta.
When pasta is al dente, turn off heat and with a large, slotted pasta spoon, remove the pasta right out of the pot and into the pasta bowl with the sauce. Add the olive oil, and scatter through the pasta. This will allow the butter sauce to better adhere to the pasta.  Now add the 1 cup of the pasta water. Next, add the parsley, red pepper flakes, and salt and pepper. Lastly, add the Parmesan cheese and toss once again.  Add more of the pasta water as needed.  Serves 4.