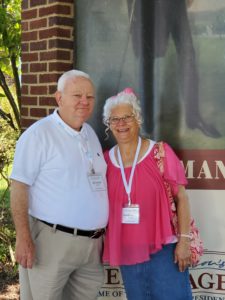 My husband Bill and I recently had the pleasure to go on a Tennessee Bus Tour.  We were invited by friends that we have known for a very long time; as it was, they were the best couple in our wedding.  So, after explaining how fun the trip would be; no driving, tours all scheduled, fun places to eat, and a very reasonable fair, we were in.
The bus we rode was a "Kincaid", a 55-seat luxurious vehicle which proved to be very posh and comfortable.  Our driver was a careful confident driver who stopped about every 2 to 3 hours for breaks and stretching.  We boarded the bus on a Saturday and returned to our starting point a week later. We slept in the best of hotels, with a free breakfast each morning.
Every day was a new and exciting adventure.  When the Smokey Mountains leaped through the bus window, my heart was overwhelmed with the beauty of God's handiwork.  Our first stop was that of Cades Cove; Appalachian Community in the 1900's.   Primitive churches, graveyards, and cabins reside in this 450,000-acre Smokey Mountain Natural Park.  So beautiful.
The next few days were filled with visiting "The Hermitage" (life and death of Andrew Jackson,) Christ Museum and Gardens, (life-like figures of the birth, death, and resurrection of Christ.)
We then went to Pigeon Forge and experienced the Sky Lift, 2,000 feet above ground.  We walked across the longest suspension bridge when we got to the top of the sky lift. It was exhilarating! We enjoyed the Hatfield & McCoy Dinner Theater that evening and marveled at the talent of young dancers, singers, and acrobats.  The food was all-you-could-eat Country.
Our next stop was "The Red Skelton Show".  Brian Hoffman's" Remembering Red."  What great talent this man possessed as he brought Red Skelton back to life.  The following day, our next stop brought us to Dollywood.  We learned all about Dolly Parton.  We saw the cabin where she was raised, and enjoyed a day of music, dancing, acting, train rides, and museums.  We ate the best of Southern cooking, pastries, and ice cream.
As the trip winded down, we were able to visit historic American companies: Bushes Beans, and The Pepper Palace.  The tours and tastings were wonderful.  There were so many other events too many to mention.
If you love good food, family entertainment, and experiencing God's handiwork, please consider a bus tour.  I think you will love it.  We can't wait until next year, when we will be sure to schedule another.
Love, Rosalie