August is that month where a new chapter begins, with our children going back to school, mom's meeting with friends for lunch, and resale shops changing over from summer to winter.   It is like the changes are telling us…holidays are coming!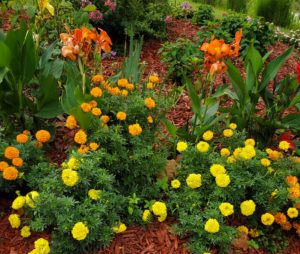 So, before I get all into cleaning the house, pulling down the curtains, and giving Bill a re-model list, I am going to enjoy the beautiful flowers that are still showing off in my garden.  It is the one thing that I can walk out onto every morning and realize that time can stand still for the moment.  While I am a lover of flowers; rose beds, hibiscus, clematis, and lots of annuals, one of my favorite flower beds is the marigold patch.
This year I planted huge yellow giant marigolds, orange medium marigolds, and a variety of miniature yellows, oranges and variegated.  Of all the flowers that make me smile, I must say the blast of bright yellow and orange round mounds of sunshine have given me more than a connection to nature, they cause me to give praise to God for His gifts of love through flowers.
Life can be so stressful and the pace at times gets unrelenting.  However, the old saying, "stop and smell the roses," is as true as ever.  What is it about a bouquet of flowers that soothes the soul, and makes us smile?  Just a dandelion picked by a toddler somehow softens the heart and gives us the little bit of joy needed for the moment.
Everyone knows that I have a deep passion for cooking and creating good food, all for the purpose to be served to my family and friends.  To know that food is a bridge to relationships, meant to be savored with anyone who crosses our path, we must not forget the flowers on the table that bring it all together.
Happy late summer everyone, we still have a lot of days before the first frost.  Keep enjoying the recipes, and don't forget the marigold patch!
Love, Rosalie