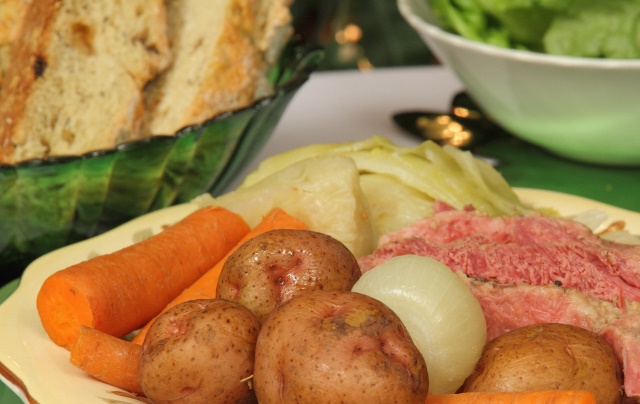 Raised in an Italian home, I can honestly say I never knew what Corn Beef and Cabbage was.   We didn't even have any Irish friends and therefore the chance of even tasting an Irish dish was remotely impossible.  Later on in years, when March 17th would come around, I would hear all the fuss about this traditional brisket boiled in a brine.  Occasionally, I would have opportunity to taste this dish, but never could get excited about the "wet" meat, as I called it.   As many of you know, I am currently working on my third cookbook, which will be another Italian cuisine called Rosalie Serving Best Loved Italian.   Before I made up my mind that the cookbook would be Italian, I had toyed with the idea to do a cookbook featuring all of the holiday dishes that we serve to celebrate our American holidays.  This was just last year, and when March 17th came around, I really wanted to try my hand at the corn beef dish.
After studying all the techniques, I decided to give it a try.  The first two attempts were okay, and I even got some complements from Bill and the neighbors.  I was going to settle on the recipe and publish it, when our Irish friend, Jason, told me something his mother did when she made the corn beef.  He said she would slather the top of the brisket with whole grain mustard.  She then would add some whole clove garlic and a few more peppercorns.    I found a jar of the whole grain mustard at our local grocery labeled Deutsche Kuche, an authentic German mustard.  I actually got excited about trying the dish again.
I made the corn beef today, and unlike the other times, I trimmed almost all of the fat from the brisket.   I used the mustard, added the garlic and the peppercorns, and put it on to cook.  After 2 ½ hours of boiling in the broth, the taste test was surprising.  The flavor of the mustard did the trick!  It was the spicy kick that this dish needed.  I added the vegetables and cabbage, and cooked it all together for another hour.   As soon as it was done, I couldn't wait to spoon some up for Bill.   I also had another surprise, and that was my Irish Soda Bread.  While the corn beef was cooking, I made up the soda bread and it came out of the oven at just the right time.  I have to say that both of these dishes were absolutely delicious.  The soda bread was sweet with a light texture, and topped with a crunchy crust, it was almost addictive.
I have decided that way down in my soul, there must have been an Irish craving for delicious Corn Beef and Cabbage.   Someday, I will have to write the holiday cookbook, just so that I can show off my delicious discovery.
Happy St. Patrick's Day,
Rosalie