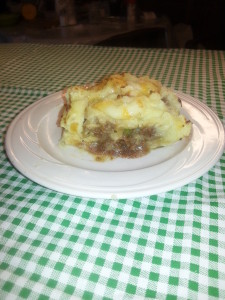 NOTE:  This shepherd's pie is so good, your taste buds with jump for joy.  Make it original with ground lamb, and freshly grated white cheddar, but if you must, you can use ground beef.  Everyone will love this one.
Ingredients:
1 tablespoon olive oil
1 to 2 tablespoons butter
1 small onion, diced
½ cup celery, diced
3 cloves minced garlic
2 pounds ground lamb
  Or lean ground beef
1 teaspoon kosher salt
½ teaspoon coarse black pepper
1/4 teaspoon paprika
1 teaspoon dried rosemary,
  Or 1 teaspoon herbs de Province seasoning
3 tablespoons flour
1 to 2 tablespoons Worcestershire sauce
2 tablespoons ketchup
2 ½ cups Kitchen Basics beef stock
White Cheddar Mashed Potatoes
4 pounds Yukon gold potatoes, quartered
2 teaspoons salt
1/2 cup butter
½ to 1 teaspoon kosher salt
1/4 teaspoon coarse black pepper
Pinch of cayenne pepper
1/3 to 1/2 cup half and half
2 cups Irish white cheddar cheese, grated and divided
1 egg yolk
3 tablespoons half and half
1 (12-ounce) package frozen peas and carrots
Instructions:
Preheat oven to 400-degrees.  In large electric skillet or Dutch oven, over medium heat, place the olive oil and butter.  Let the two melt together and add the onion, celery, and garlic.  Sauté the vegetables for 2 to 3 minutes, or until lightly golden.
 Add the ground lamb or beef, and begin to brown in with the vegetables, crumbling meat.  Add the salt, pepper, paprika, and herbs de Provence.  Stir in well and keep browning meat for about another 3 to 4 minutes.  Add the flour and stir into the mixture; continue to cook for another minute or two.
Add the Worcestershire sauce, ketchup and beef stock, and let come to boil.   Add the peas and carrots, and continue to stir and cook until bubbly, about 2 to 3 minutes.  Place the mixture into a buttered 9 by 13-inch oven-proof baking dish.
Make the mashed potatoes by placing quartered potatoes into a 6-quart heavy pot of boiling water with salt added.  Cook over medium-high heat for 20 minutes, or until very tender.  Drain potatoes and place back in pot.  Add the butter, salt, pepper, cayenne pepper and 1/3 cup half and half.  Mix together with a potatoes masher until smooth.  Add 1 cup grated white cheddar.  Place the egg yolk into a small bowl with the half and half; mix together well.  If potatoes are too thick, add a little more half and half. Add the egg yolk mixture over the cheese and mix in well with the potatoes.  Pile the potatoes high over the meat and gravy and spread out evenly or leave wavy.
Bake covered with foil for about 20 minutes.  Uncover and sprinkle remainder 1 cup white cheddar cheese over the potatoes.   Place under broiler for about 1 to 2 minutes until potatoes are crusted and cheese is melted.   The shepherd's pie can also be baked uncovered for 15 to 20 minutes, then place remainder white cheddar cheese over top and keep in oven another 5 minutes to melt cheese.  Serves 12.