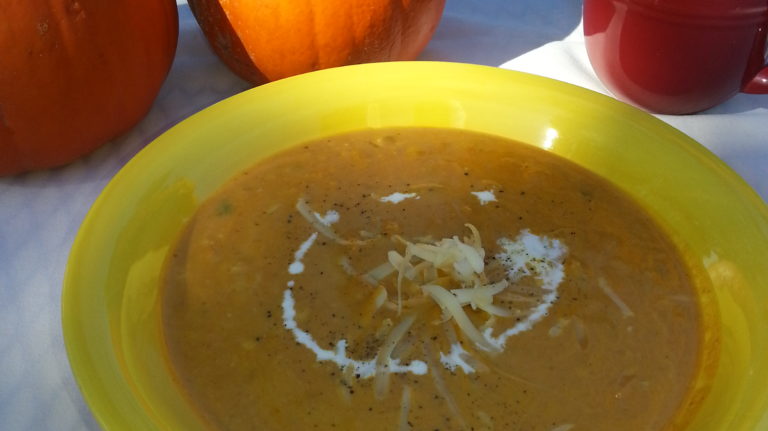 NOTE:  This soup is out-of-sight good.  It is a combination of earthy and savory with a chunky feel of herbs and spices.  I love it just as it is, but if you like a smooth soup, it can be pureed in small batches in the blender. 
Ingredients:
2 tablespoons unsalted butter
1 medium onion, about 1 1/2 cups
4 cloves garlic, diced small
2 (15-ounce) cans pure packed pumpkin
1 (32-ounce) container Kitchen Basics chicken stock
1 cup heavy whipping cream
2 tablespoons fresh flat leaf parsley, coarsely chopped
2 tablespoons fresh thyme leaves
1 tablespoon fresh sage leaves, chopped small
1/2 teaspoon kosher salt
1 small chunk crystallized ginger, about 1 teaspoon
1/4 teaspoon pumpkin pie spice
Gruyere cheese, grated to 1 1/2 cups, or shredded
Gruyere cheese, garnish
Instructions:
  Melt butter in a 6-quart heavy saucepan.   Add the onion and garlic and saute for 3 to 4 minutes, or until golden: stirring often.
  Stir in the pumpkin and add the chicken stock a little at a time until smooth and combined; simmer to a gentle boil.  Add the cream and stir into the pumpkin mixture until the soup is smooth and evenly combined with the cream.
 Add the parsley, thyme and sage.  While stirring in the herbs, add the salt, ginger, and pumpkin pie spice.  Stir in well and let soup simmer for about 10 minutes for flavors to blend.  Now add the grated Gruyere cheese and stir the soup until the cheese is melted in.  Heat the soup for about 5 to 6 minutes longer.  At this point, the soup can be left as is for a chunky texture, or it can be pureed in small batches in the blender for a smooth consistency.  Garnish top with grated Gruyere cheese.  Makes 8 cups.