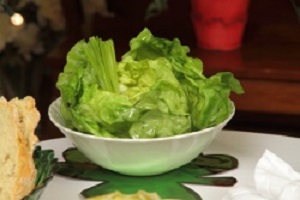 NOTE: These little green salads are made up of Bibb lettuce heads, and served in individual bowls. The olive oil and lemon dressing is just perfect, giving the sweet buttery lettuce a delicious flavor. Serve with crusty bread if desired.
Ingredients:
6 Bibb lettuce heads
12 green onions, ends trimmed
2/3 cup extra virgin olive oil
1 teaspoon lemon zest
Juice of 2 lemons
1 teaspoon coarse sea salt
½ teaspoon freshly ground black pepper
Instructions:
1. Arrange lettuce heads in 6 individual bowls. Spread the leaves slightly apart. Plant 2 green onions into each of the lettuce heads.
2. Prepare the lemon dressing by pouring the olive oil into a medium jar. Add the lemon zest, juice of 2 lemons, and salt and pepper. Put lid on jar and shake dressing until well combined.
Serve the dressing over the Bibb lettuce heads. Makes 6 servings.