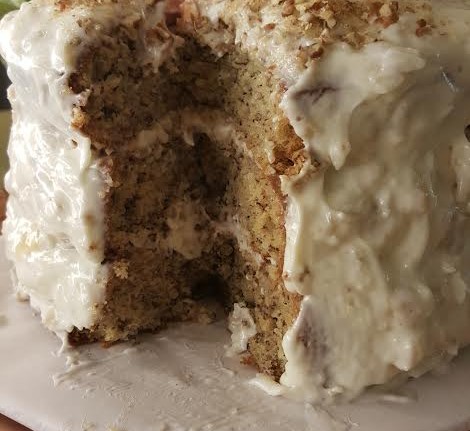 NOTE:  This creamy banana creme cheese frosting will feel like satin in your mouth.  It is perfect for the beautiful Banana Supreme Cake with Candied Walnuts. 
Ingredients:
[caption id="attachment_988" align="alignleft" width="168"]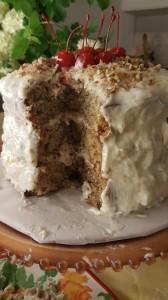 Mother's Day Cake - Beautiful Banana Cake w/Candied Walnuts[/caption]
1 cup mashed bananas
2 teaspoons lemon juice
½ cup butter, softened
1 (8-ounce) package cream cheese
1 teaspoon vanilla
4 cups powdered sugar
1 cup flaked coconut
½ cup chopped walnuts
1tablespoon brown sugar
6 Maraschino cherries
Instructions:
 Combine mashed bananas and lemon juice; set aside
With an electric mixer, cream butter and cream cheese at medium speed until combined.  Add the bananas and vanilla to cream cheese mixture.  Add powdered sugar a little at a time until smooth; stir in the coconut.
In small skillet, combine walnuts and sugar.  Toast nuts over medium heat until browned and aromatic, about 2 to 3 minutes.  Remove and let cool on waxed paper.
Frost cake; sprinkle the toasted nuts over top and garnish with cherries.