Somewhere in the early 1950's I would have been about 8 years old.  My mother, who loved to sew, was busy at her sewing machine making me a beautiful Easter dress.  As it was shaping up, and time for the finishing touches, I can remember the pink dotted Swiss with the baby-doll white collar, and cuff sleeves.   The bottom of the dress had 2 layers of ruffles and was completed with a large waist belt ending in a back bow.  In my mind, it was the most beautiful dress she ever made.
To complete the outfit, we took the Trolley Car to the Downtown Wellston Loop, in St. Louis, MO.   Growing up in St. Louis during the 50's and 60's was great fun for a kid, and the Wellston Loop was one of those great stops.  My mother said we needed white patent leather shoes, and of course white wrist gloves.  And, if we couldn't find what we wanted, we would just go downtown.
I loved going downtown, because I knew my mom would take me to the Woolworth's store, where we could sit at the big lunch counter and have a hot dog for $.59 and a frozen custard.  We did accomplish our mission, and I was all set for Easter Sunday.  I even had a white hat with a pink bow.
The anticipation was overwhelming, and I knew I would have the prettiest outfit in the church.  My two cousins, both my age, would be there with their families.  They would surely be talking about the creation that Annie Fiorino put together for her daughter.
Then, it happened.  Waking up that Easter morning, and hearing the sighs of my mother, I had a very bad feeling.   She was standing at the kitchen window and watching the snow fall ever so steady.  "Well, Rosalie," she said, "we will still be in church this morning, but you will have to wear your winter coat, boots and scarf.  There will be another Sunday for our Easter clothes."
As the tears started streaming down my cheeks, my sweet mother took me in her arms, and took the time to explain the entire Easter story to me.  "Easter is not about clothes," she said, "but rather about the sacrifice that the Lord Jesus gave for us."  She continued about how the Lord could have refused the suffering, but that he thought of me, and said, "Not my will, but Thine be done." About the time we got into my dad's car, it became clear to me how much I really loved Jesus, and how thankful I was.
I was still disappointed, but I will never forget the lesson learned that Easter morning.  My mom taught me that no matter what, our first allegiance was to our God and our Faith.  She kept this reasoning until her death.  Finally, the Sunday did come when I got to wear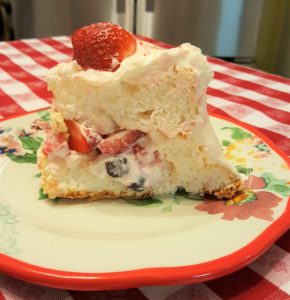 my outfit, but the lesson she taught me, was greater than the patent leather shoes.  Thank you, mom.
Happy Easter, Rosalie