With Christmas just around the corner, I'm already stressing and counting the days, minutes, and seconds in my head trying to figure out how to get all the things done that I think I must get done.
When I was a kid, I didn't recall my mother running around like a crazy person trying to cram in all the hustle and bustle of Christmas.  There was very little shopping, not much decorating, and never over-exaggerated house cleaning.  But, I do remember the Christmas cookies.  She must have started them sometime around October, because every time we saw her, she had her recipes out and a big pile of dough on the kitchen table.  She would keep great big tin cans in her closet filled with all these treasured cookies of her homeland.   Every recipe was homemade, including all the famous Italian classics:  Sesame, Italian Fig, Sicilian Slice, and Anise Cookies.  She would also make her Biscotti, Pignolata (Honey Clusters,) along with Italian Wedding Cakes, Chocolate Cherry Cookies, Italian Spice with Lemon Icing, and so many more I can't recall.
My father was a butcher and at my mother's request, he would bring home Styrofoam meat trays.  Mom would fill these little trays with about 25 cookies, then wrap each one in clear wrap and like magic, these were her Christmas appreciation gifts to all her friends.  She continued with this tradition with the list expanding each year.  People in the community who ever served my mother, like the church officials, doctors and office clerks, cleaners, hair dressers, neighbors and friends; they all awaited "Miss Ann's Cookies."  Without exaggerating, she probably made 10,000 cookies every year.
When she died in 1982, it was in the month of September.  My older sister, brother and their families, along with my children, knew we lost more than a mom and grandmother; we lost an Italian matriarch.  Who would make the homemade ravioli and the homemade bread, or the pastas we all loved?   But, above all, who would make the Christmas cookies?   To say we were lost was an understatement; life could never be the same.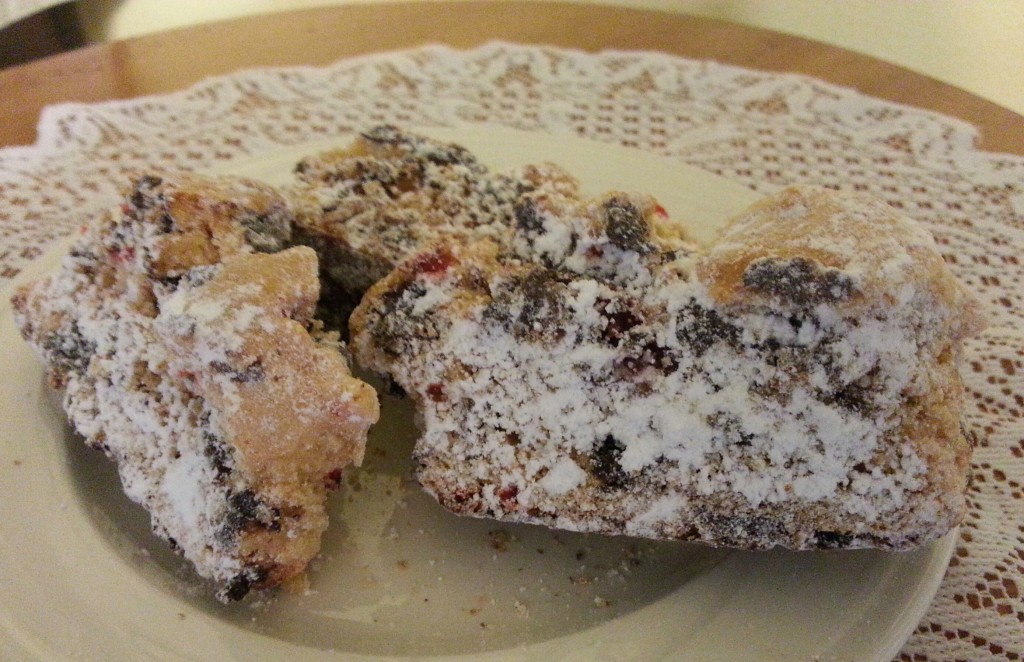 It was December 2nd, just three months after losing my mom that I was in town getting some items for the holidays. I happened to run into her favorite butcher and when he saw me, he said, "So sorry to hear about your mom, we sure will miss her, and especially those wonderful Christmas cookies." I thanked him for his concern and wished also that she could be here, not only for him, but for all of us.
I was in the car driving home when I thought…she is here, she is in me and in my sister and in my brother. Everything she lived and loved was in each of us. I turned the car around and went back to the grocery store. Finding the butcher behind the meat counter, I said, "Can you sell me about 100 Styrofoam trays?" He looked at me and said, "How about I donate them to you." Somehow he read my mind and I detected a teary-eyed gentleman.
Arriving home, I thought, "How can I possibly do this?" But determination is adrenalin waiting to be released. I quickly went to my mother's home, greeted my depressed dad, and said, "I'm taking mom's recipes home." "Okay, honey," he said. The next three weeks became a bakery in my kitchen. I actually baked cookies every single day turning out batch after batch of Italian cookies. My dad spent every evening with me and was so excited that the tradition would be carried on.
With only five days before Christmas, the cookies were finally completed and the little trays were fixed and wrapped. I piled them in the car and brought them to all of our favorite community people. They had tears in their eyes as I said, "Your Christmas cookies, from "Miss Ann's daughter!"
Not only did I learn to make the Italian Christmas cookies, but I became the matriarch for my family. I learned to make the ravioli, homemade bread, and the pastas they all loved. That Christmas, in 1982, was a joyous one, and one we will never forget.   May I