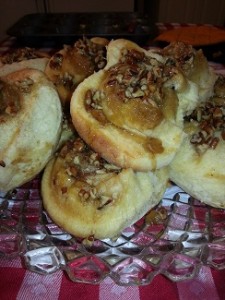 I am not sure where the days go, but here we are in early August, and I am thinking about getting the house decorated for the upcoming holidays.  I figure, if I can't put a stop to the days, I might as well start wrapping Christmas presents.  Am I the only one who can't seem to catch up?  Life just seemed to be less crazy when I was a kid growing up.  For one thing, we didn't start school until after Labor Day in September.  My mom never ran out and bought me a whole new wardrobe, mainly because I had 2 uniforms that she washed out every other day.  My socks were white and my shoes were black, and as I recall, no one stood out as a fashion star.  As far as my supplies, if I had two sharp pencils and a notebook, all I needed was a teacher and a desk.
However, I did need discipline, and at my school that was no problem.  My mother made it clear that if I got in trouble at school, I got in trouble at home.  I was expected to be courteous, kind, non-violent, and in no way disobedient to authority.   If I was lucky I got to watch the Howdy Doody show when I got home, and of course my favorite, the Mickey Mouse Club.  It was a kid's world with beautiful Annette Funicello and the Mouseketeers.  Saturdays were like heaven with The Lone Ranger and Kukla, Fran and Ollie.  Life was really simple.
We had one car, and that belonged to dad so he could get to work.  He was a butcher at the local National Food Store in Jennings, MO., where I grew up.  Mom walked to work where she was a seamstress, and I walked to school.  We seldom had obesity problems, because when we were not walking, we played hard on our school playground for at least an hour every day.  On the way home from school, if it snowed, we ran most of the way to avoid snowballs aimed at our heads from the mean boys.
We were happy kids, had homemade meals every night, and always sat together at the supper table. We discussed the days' problems, and got very little sympathy if we had complaints.  We mostly learned to work out our own problems at school, and seldom did our parents get involved.  We could take piano or accordion lessons after school, or learn to play an instrument of our choice through school programs.  Sundays and Wednesdays were reserved for church, and there were very little activities, if any, scheduled on these days. We learned to cook from our moms, and our brothers worked with our dads either building something or taking it apart. Everything that broke down in our house was fixed by my dad.  Keeping the house in order and somewhat cleaned was up to my mom.  Since she loved to cook, the other things lacked somewhat.  But did we ever have the best meals and desserts!  I can still smell the hot baked bread and the wonderful Honey Pecan Rolls she would make on the weekends for our special treat.
So were the Good Old Days…makes me feel like taking the train back home.  Hopefully, we can capture some of that family time, at least a few evenings per week.  Your kids will love it, even if they don't make it to karate. Rosalie