With Thanksgiving, right around the corner, we are bombarded with pictures of the perfect thanksgiving table, the most unusual side dishes, and of course the most exotic deserts.  Yet, we almost always make the same things:  Roasted turkey, mom's favorite dressing, mashed potatoes and gravy, green bean casserole with crunchy onions, and of course pumpkin pie.  Some of us drool over the new recipes we want to make, and even go out and buy everything we need to do it, only to run out of time with all our good intentions dangling.
I say, just ramp up the favorites.  Instead of the plain mashed potatoes, how about my Garlic Cheese Mashed Potatoes with Chives, or, Rosalie's Italian Sausage Dressing, or, Green Beans with Garlic Crusted Potaotes, and last, but not least, my awesome Pumpkin Walnut Swirl Cheesecake.   You can find the first three of these wonderful recipes in my Rosalie Serving Best Loved Italian cookbook.   The awesome pumpkin cheesecake you will find in my Rosalie Serving Country cookbook.  Seems perfectly sensible to me…same recipes with a little jazz added for your perfect Thanksgiving dinner.
And doesn't it just make sense, that anything added to cheesecake has got to be fabulous?  You bet!  So, be sure, if you don't make anything else, please, please, make the most wonderful Thanksgiving dessert of all time…my Pumpkin Walnut Swirl Cheesecake.  You will bless me all day long…and Lord knows I need it!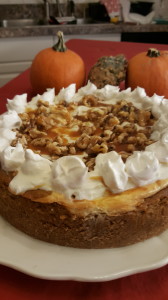 Happy Thanksgiving,
Rosalie