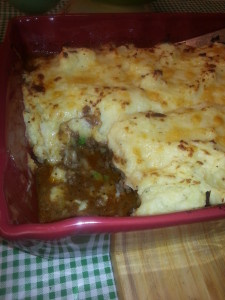 Since St. Patrick's Day is just around the corner, and I usually try to offer an Irish dish for my cooking classes, I was struggling with what to serve.  Last year it was the awesome Corned Beef and Cabbage, and the best Irish Soda Bread ever. Both of these are so popular, and I myself lean to these traditional dishes.  This year I wanted something just as great, and something that would wow the palate.  Then somewhere in the back of my head I heard the word "pie" loud and clear.   Wow, I wonder if I could try my hand at the famous Shepherd's Pie.
Pies have always been a favorite of mine, and all anyone ever had to do was to tell me they were craving a certain pie, and in no time, I would be taking it out of the oven.   I love filling them with all sorts of fruits and creams, and nuts and syrups. And when you pair these with a good flaky crust, one could just pass out on the goodness.   But pies are just not limited to fruits and creams.  Some of the best pies I ever had were the homemade chicken and beef pot pies.  I savor the meat filling along with the rich gravies and sauces all embedded with a flaky crust.
So, to the Irish I went, and found out that the shepherd's pie was really a bunch of leftover meat, mainly lamb, dumped into a pie pan and topped with mashed potatoes.  Some recipes even called for layers of the potatoes, starting with a layer on the bottom and ending with a layer on the top.  Another feature was that they used an Irish white cheddar cheese in the potatoes, which gave the potatoes a wonderful rich flavor.  While lamb was mostly used, since shepherds do keep sheep and not cows, those who did not like lamb eventually used beef.
When I finally decided on all the spices, beef stock, and vegetables, I bravely put together my first authentic shepherd's pie.  I piled it high with gold Yukon mashed potatoes all complete with some white cheddar cheese that I grated from a block.  When I finally pulled it out of the oven, my husband and I disregarded the 15-minute wait for it to settle.  We dove into this marvelous creation of what most everyone loves…meat and potatoes.
Since it was my first time, I covered it with foil, and baked it for 20 minutes.  I then uncovered the casserole and topped it with more of the white cheddar cheese and broiled it to get the crust.  But the next time I make it, I think I will bake it uncovered and lower the temperature to 350-degrees.  In any fashion, be sure to top it with more cheese and let it bubble hot and delicious.
You are absolutely going to love this!  Make it tonight along with my famous Irish Soda Bread. Just look for the recipe on this site under recipes.
Love,  Rosalie