Making all these pumpkin recipes has really been fun for me.  And since there seems to an abundance of pumpkins this year, I say, why not?  Of, course, the real pumpkins on the porches are a lot of work, that is if you plan to bake, scrape, and seed.  However, I know a lot of people willing to do just that.  They tell me their pumpkin sweets and dishes are much better, and full of rich flavor.  I guess I am just too hyper, and think myself too busy to conquer this endeavor. However, sometime this month, or the next, I will write about the real deal.
Until then, I love to use my pure canned pumpkin, and thank the good people who cooked it, canned it, and happily offered it to me.  When I find these little treasures on sale, I scoop them up.  I will say that last year about this time, I did a cooking demonstration at our local Williams-Sonoma store and I made my Pumpkin Walnut Swirl Cheesecake.  They had me use their famous Pecan Pumpkin Butter in the recipe, and I must say this was one canned pumpkin that was so good, I just wanted to eat is straight out of the jar.  So when I have opportunity, I pick up a jar or two and use it in the place of the straight canned pumpkin.  It makes everything pumpkin pop, and pop some more.
But my offering today is down another lane, and that is when I get on a roll for pumpkin magic.  It is none other than my Pumpkin Cake Roll with Candied Walnuts, or pecans if you prefer.  This little wrapped darling is filled with sweet cream cheese and topped with more cream cheese and candied nuts.  I sprinkle lots of powdered sugar on it and when it is sliced, it looks up to me and calls me by my middle name; my mouth starts watering.  I just had to pass this one on to you today, because I am on a roll for pumpkin anything.
Watch for the recipe on my Country recipe post and when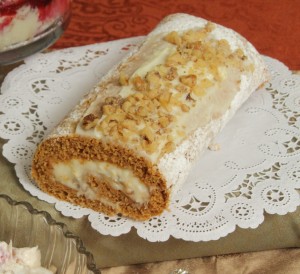 you make this, and I hope it is this weekend, please eat a slice for me.  I walked 3 miles this morning with my dog "Cappuccino," and we are both trying to lose weight. Me, more than him.
On a Roll'
Rosalie