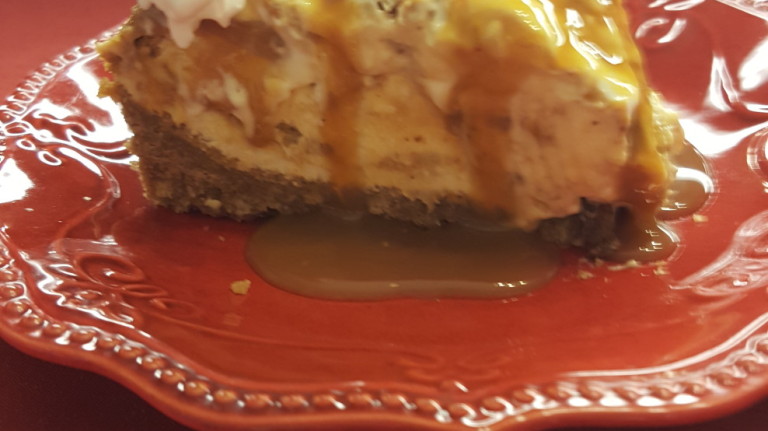 NOTE:  This cheesecake is wonderful to serve around Thanksgiving time, but it is delicious for any occasion.  It is so yummy, with candied walnuts and caramel topping.
Ingredients:
2 cups Ginger Snaps, finely crushed
¼ cup brown sugar
½ cup walnuts, finely chopped
½ cup butter, melted
4 (8-ounce) packages cream cheese
1 cup sugar
2 teaspoon vanilla
4 eggs
1 cup canned pumpkin
½ cup brown sugar
1 cup granulated sugar
1 ½ teaspoons ground cinnamon
¼ teaspoon ground nutmeg
¼ teaspoon ground cloves
Sour Cream Topping
1 pint sour cream
¼ cup sugar
1 teaspoon lemon juice
1 cup walnuts, left whole, or coarsely chopped
2 tablespoons sugar
1/3 cup Hershey's Caramel Topping
Instructions:
Preheat oven to 325-degrees.  Mix together Ginger Snap crumbs, brown sugar, walnuts, and butter.  Place the crumbs in the bottom of a 9-inch springform pan. With the bottom of a cup or juice glass, pat the crumb mixture up the sides the pan, leaving a ½-inch crust on the bottom.  Place in freezer for 8 to 10 minutes to chill and set.
 Using an electric mixer, beat cream cheese with the sugar and vanilla until well blended.  Add eggs, one at a time, mixing on low speed after each addition just until blended.
Remove 1 ½ cups batter; place in small bowl.  In medium bowl, combine pumpkin, brown sugar, granulated sugar, cinnamon, nutmeg, and cloves, and pour into the remaining batter.  Spoon half of the pumpkin batter into crust; top with spoonfuls of half of the reserved plain batter.  Repeat layers.  Cut through batters with knife several times for marble effect.
Bake 1 hour and 10 minutes or until set.  Let cheesecake cool completely; run knife around edge and remove outer pan.  Place the cheesecake in the refrigerator for several hours.  Remove, and using a butter knife, gently remove bottom pan onto cake stand.
Prepare topping by combining sour cream, sugar, and lemon juice.  Spread over top of cheesecake.  Make candied walnuts by placing walnuts and sugar in dry skillet over low heat, stirring constantly.  Toast the walnuts with the sugar about 2 minutes until aromatic and slightly browned.  Remove and sprinkle over sour cream topping.  Drizzle the caramel topping over the walnuts.  Keep cheesecake refrigerated until ready to serve.  Makes 16 servings.