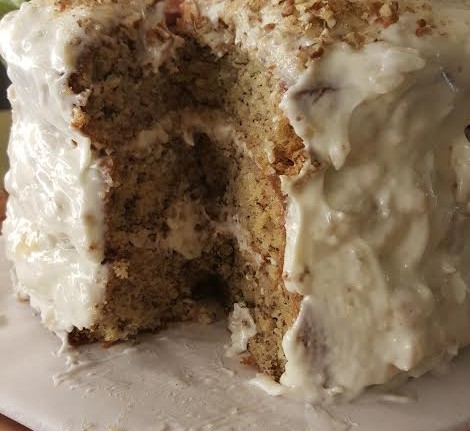 NOTE:  This beautiful cake is a 3-layer beauty made for a Mother's Day table.  It is delicious filled with chopped bananas, nuts, and coconut.   You will treasure this recipe.!
Ingredients:
Butter and flour
1 cup butter, softened
3 cups sugar
3 large bananas, or 4 small
1 tablespoon lemon juice
4 eggs, beaten
3 ¾ cups all-purpose flour
2 teaspoons baking soda
1 cup buttermilk
2 teaspoons vanilla extract
1 teaspoon butter extract
2 tablespoons freshly squeezed orange juice
Instructions:
 Preheat oven to 350-degrees.  Butter and lightly flour three 9-inch round cake pans.  In large mixing bowl, cream butter and sugar with electric mixer.  In small bowl, cut bananas in small chunks and sprinkle with lemon juice.  Add to butter mixture; mix on low setting until smooth, stir in the eggs.
 In another bowl, combine the flour and baking soda; mix together.  Add to banana mixture alternately with buttermilk, beginning and ending with flour mixture.  Blend together well after each addition.  Add the vanilla, butter extract, and orange juice.
 In small skillet, combine walnuts and sugar.  Toast nuts over medium heat until browned and aromatic, about 2 to 3 minutes.  Remove and fold into batter.
Divide the batter between the three cake pans.  Bake for 35 to 45 minutes, or until a wooden toothpick in center comes out clean.  Remove from oven and place cakes on wire racks for 10 minutes to cool.  Spray cake racks with cooking spray and flip cakes out onto racks, cooling completely until ready to frost.