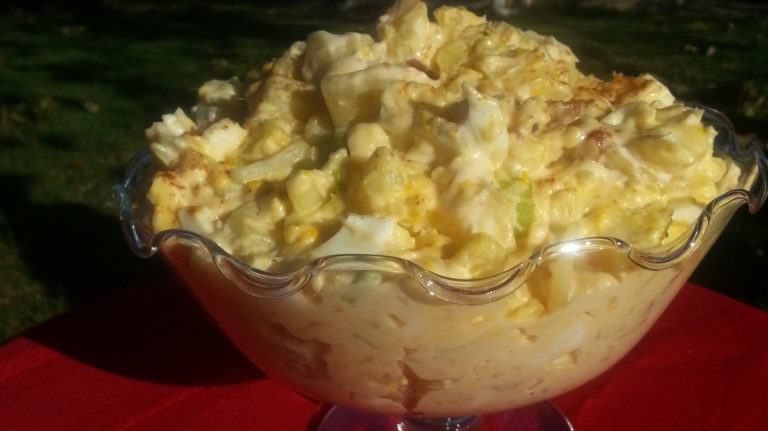 NOTE:  This was my mother, Ann Fiorino's, version of potato salad.  It has been handed down to her daughter and granddaughters.  The sweet-sour syrup really sends this on over the top.   Everyone will love this!
Ingredients:
5 pounds red potatoes
2 teaspoons salt
6 hard-boiled eggs
1/3 cup onion, chopped
2/3 cup tender celery hearts, with leaves, chopped
1 quart Kraft Miracle Whip
1 teaspoon yellow mustard
1/2 teaspoon fine ground black pepper
2 slices bacon
2 teaspoons red wine vinegar
1 teaspoon sugar
paprika
parsley sprigs
Instructions:
 Wash and peel potatoes;  cut into 1-inch pieces.  Boil potatoes in an 8-quart pot in salted water, until potatoes are tender but not mushy.  Drain cooked potatoes and place in a large mixing bowl.  Peel eggs when cooled; chop and add to warm potatoes.  Add the onion, celery, salad dressing, mustard, and salt and pepper.
Cook the bacon until crispy and remove from heat.  Remove all but 1 tablespoon of the bacon drippings.  Crunch the bacon into small pieces and return to bacon drippings.  Add vinegar and sugar, then return to low heat for about 30 seconds to form a thin syrup.  Add all at once to the potato salad.
 Mix together until well blended.  Sprinkle top with paprika and garnish with parsley sprigs.  Serves 12.